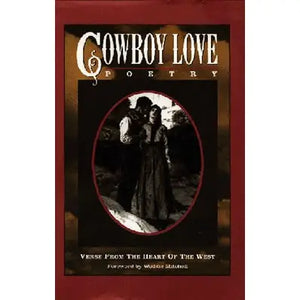 Now in paperback, Cowboy Love Poetry, a rare anthology of more than seventy love poems, is written by America's real hero, the cowboy.
Read the tender words of classic Western balladeers such as Henry Herbert Knibbs, Frank Desprez, S. Omar Barker, Badger Clark, Belle Starr, Waddie Mitchell, Bruce Kiskaddon, Henry Real Bird, J.B. Allen, Laurie Wagner Buyer and many more.
Cowboy Love Poetry is definitely riding the Zeitgeist of the cowboy poetry phenomenon. After television features on the topic with Charles Kuralt and Dan Rather, this anthology of romantic verse was featured in a six-page spread in CountryAmerica magazine. Since then, Cowboy Love Poetry has had stampeding sales.
A staple at venues from the Gene Autry Western Heritage Museum to book stores to gift stores to feed stores, this handsome volume has become an American folk collectible, the only cowboy poetry anthology devoted entirely to romance on the range.
Paperback 192pgs Poetry/Anthologies (multiple authors)