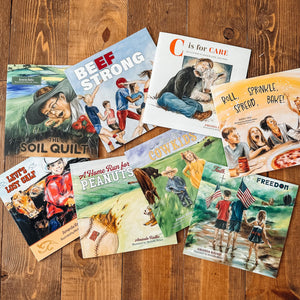 For wholesale purchase -- specifically for retailers, book stores, schools, conferences, or folks wanting to purchase books in bulk.
Purchase 10 of Amanda's complete 8-book sets at just a wholesale price of $640. Retail price $1,000. 
The book set includes:
"Levi's Lost Calf"
"Can-Do Cowkids"
"A Home Run For Peanuts"
"The Soil Quilt"
"BEEF Strong"
"C is for Care"
"Faith, Family, Freedom" 
"Roll, Spread, Sprinkle, Bake"