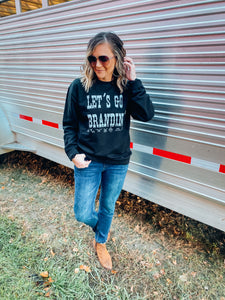 This number-one best-selling crew says it all! These are going like hot cakes, but they are now fully stocked and ready to rock!

I know I'm just a simple cowgirl, but the math isn't really adding up in our favor these days...
Price increases from 2020 to 2021 show everyday Americans are paying more for nearly everything...
Bacon/Lb … $5.62 to $7.22
Gasoline/Gallon … $2.26 to $3.36
Wine/Liter … $12.37 to $13.04
Bread/Lb … $1.49 to $1.58
Eggs/Dozen … $1.35 to $1.83
Coffee/Lb … $4.49 to $4.73
Ground Beef/Lb ... $4.18 to $4.47
Combine that with a border crisis, failed Afghanistan exit, millions losing their jobs due to mandates, shortages at the grocery store, and an overreaching government who is threatening our Constitutional freedoms and leading us down the path of communism, and I'm just really not liking what Washington, D.C. is selling these days. 
I also don't know who this Brandon fella is who everybody is cheering for at Nascar races and football games, but I do know Brandin' Season is fun in the cattle world sooo...let's go brandin' I guess. Yeehaw!
Fit: Unisex
Color: Black
Brand: Independent